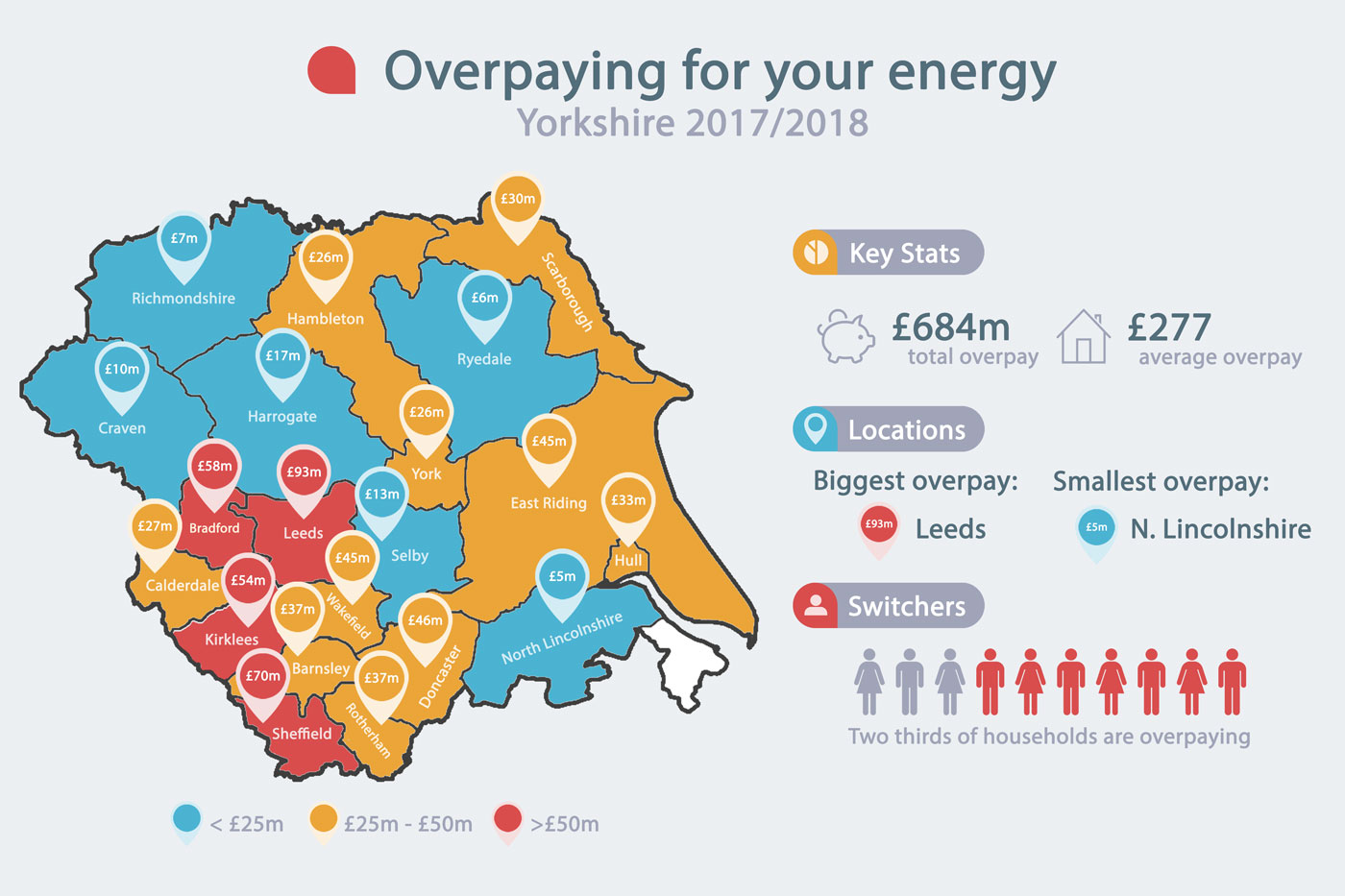 Methodology - analysed each area in Yorkshire for property type (flat, bungalow, terraced, semi-detached, detached) and average saving per property type when taking into account average frequency of supplier switching per household. (November 2018)
Research by automated supplier-switching service Switchd shows Yorkshire will overspend £684 million on their energy bill in 2018, with an average household overspend of £277, all because households aren't switching their energy supplier.

See how much you save by looking at our infographic or using our postcode checker below.
In individual terms, this means the average Yorkshire household could save £277 a year by switching to a different provider, rising to £296 per in Doncaster and East Riding.
Two thirds of British households are stuck on an expensive standard tariff, but most don't switch to a new supplier due to paperwork, lack of time or inadequate information. Switchd is a new hassle-free subscription service that automatically and continuously switches households onto the best energy deal.
To address God's Own Country's massive - and unnecessary - overspend on energy, Switchd is launching a campaign to raise awareness of energy switching and encourage Yorkshire households to sign up to its automated supplier-switching service to each save hundreds of pounds in 2018.
Tom Rogers, founder of Switchd, said - "Although switching your energy provider is a financial no-brainer, most households don't bother because it's so much hassle. Yorkshire residents are in danger of being ripped off by their energy suppliers this year, which is why we're launching our Save Yorkshire Millions campaign to encourage residents to always stay on the cheapest deal."
Switchd was launched in February 2017 with the aim of saving Britain millions of pounds off its annual energy bill. Unlike comparison sites, the service automatically handles the switching process from start to finish, using an algorithm to constantly scan for the best energy deal tailored to your preferences and usage data. Subscription is £1.99 a month, but Switchd guarantees to find a deal saving each household at least £50 off its annual energy bill before it takes a payment.